Standing up for Refugees ? Set up a FB Group and Becomes Human Rights Information Retailer:
Submitted by Netipr on
My dear friends: In these days of a very sophisticated and well-featured free networks like Facebook, there are more than one way to help the causes for refugees. You can actually start your own "Group" to share and exchange information. All you need is few hours of your time in the evening, just to moderate the postings. Already there are handy ways and examples for setting up guidelines on an information forum you are about to administer.
The Internet and Grassroots Activism
For a good two decades, the Internet's emails and Bulletin-Board Services (if you're old enough to remember them!) have been the main stay for grassroots activists (e.g. 1996/11/08 http://www.netipr.org/uneoo/the-grassroots-activism-and-internet). In those days, the activists who always with limited resources had to rely only upon email/BBS for gathering and disseminating information. The current Facebook's "Group" facility, which provides free to us all thanks to FB Inc., the main operating principals are pretty much same as to those old Bulletin-Board Services. However, because of the advancement of technology, these Facebook Group forums can become even more powerful, with a greater ease for all level of users.
Counter-balancing Misinformation
For current refugee campaigns, there are undeniable "lies and spins" about the refugees being propagated by the so-called "mainstream" media. As the grassroots activists, we must counterbalance such menacing influence of the "mainstream" media. From the perspectives of grassroots activists, the benefits by Internet BBS and Facebook forums are also the same. Here are some recaps based on my 1996 review of this particular subject:
(A) On Internet/Facebook, it is impossible for anyone to break the line of communications between the grassroots activists;
(B) The grassroots activism on Internet/Facebook is akin to a political guerrilla warfare. The form of resistance can be conducted utilising your own available resources for maximum impact;
(C) At grassroots level operations, more of your time and efforts can be devoted towards movement building and concentrating on fundamental issues;
(D) In comparison to emails/BBS, the FB Groups communication can be done in more transparent manner. For example, the cases of "A cat behind the keyboard" were less likely to occur.
(E) Because of advancement of technology in the last decade, the Facebook has essentially integrated the traditional Web with Media streaming facilities. For those who have journalistic capacity, this facility can be used to set up your very own activist "channel".
Grassroots Forum Success Stories:
For your inspiration, there are already quite a few success stories of Facebook Groups working on refugee themes. Within these Groups, the grassroots activists are encourage to participate. Here are a list, which I am too happy to add with yours in the next update:
# Refugee Action Collective (Victoria) [4,680 members]
# Boat People are Refugee not Illegal Immigrants! [1,801 members]
# Stop Offshore Processing of Asylum Seekers [11,958 members]
# ASYLUM SEEKERS AUSTRALIA [1,238 members]
# SOCIAL JUSTICE asylum seekers [4,789 members]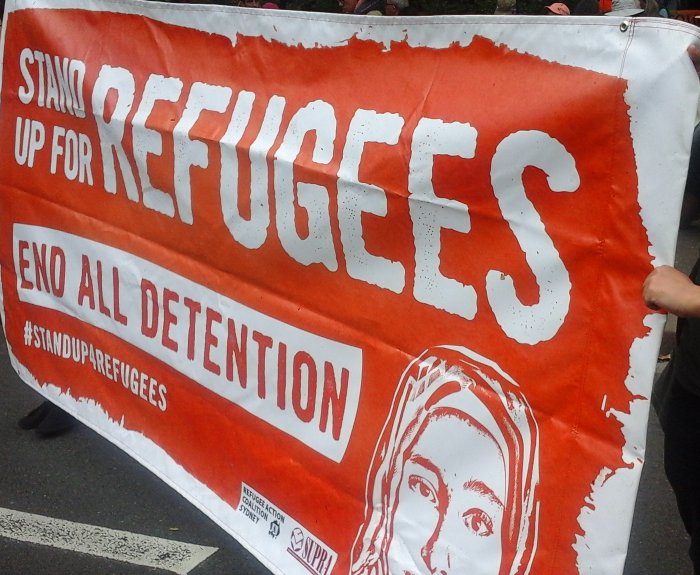 U Ne Oo, Sydney, Australia.
---
Example Setup Guidelines:
To welcome anyone to post with subjects on:
(i) Stop mandatory and offshore detention of asylum seekers;
(ii) Ending boat turn back policy and refoulement of refugees;
(iii) Rescinding oppressive laws and unjust practice directed at refugees and asylum seekers in Australia.
Spam and Abusive posts are not allowed and to be taken down immediately.
Poster must check for duplicate items within 20 hrs window.